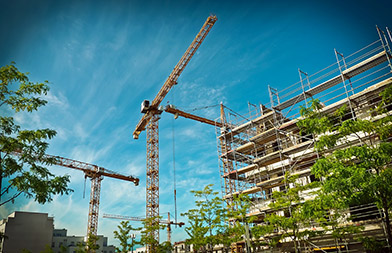 We wouldn't suggest 2018 has been an easy year for smaller developers but as the new year approaches, we think there are plenty of grounds for positive thinking.
In our recent blog about the autumn budget, we suggested that developers should be cautiously optimistic about the steps the government it taking to help them build, and sell, new homes.
One of these steps is the extension of the Help to Buy scheme for an additional two years, until 2023. The government's decision was, no doubt, prompted by the key impact Help to Buy has had on a difficult sales market in the past couple of years.
Since it was launched in 2015, Help to Buy has funded more than 160,000 purchases in the UK. In 2017/2018, it supported 44% of new build transactions. So, the government's decision is to be applauded and represents positive news for developers.
But Help to Buy cannot be extended indefinitely and it begs the question what else needs to happen if the government is to come close to its target of building 300,000 homes a year? At the moment this figure is only about 217,000, so there's a big hole to fill.
In a recent research report, Savills suggested that build-to-rent (BTR) could go part of the way to plugging this gap. It estimates that BTR completions will rise to 7,000 this year and could be as high as 15,000 by 2021. We wrote about BTR earlier this year and believe it is a sector that opens up opportunities for smaller developers.
There is no doubt smaller developers need as much support as possible if they are to reduce the stranglehold of the large housebuilders. Developers who build more than 500 new homes a year are now responsible for 77% of all new homes in England registered with NHBC.
That is a troubling statistic and it makes initiatives such as the Home Building Fund so important. The aim of this £4.5bn government fund, which is open to businesses that build new homes or prepare sites for housing development, is to support the SME developer market. Other initiatives includes guarantee support through a variant of the British Business Bank's ENABLE Guarantees programme (something you can again read more about in our autumn budget blog).
If there is to be a boost in housebuilding in the UK in 2019 and over the next few years, it begs the question: where will these new homes be built?
Savills is clear that developers should be looking north of London. "Over the next five years we expect growth in London to be much lower than at equivalent points in previous cycles as interest rates rise and the market rebalances," it says. "Just as importantly", it continues, "the experience of the past year tells us that those markets that traditionally perform best in the second half of a housing cycle can continue to grow, even if the London market is muted".
This is partly due to Brexit uncertainty but also because of stretched house price-to-income ratios and the potential impact of any interest rates rise.
Two areas that have done well in other cycles and are expected to continue to thrive in this one are the Midlands and the North.
The Midlands was the UK's best performing housing region this year. As we move into 2019, homes will continue to be more affordable than in London and its surrounding commuter zones and less vulnerable to interest rates rises.
In the North, prices are only just returning to pre-credit crunch levels and homes in the region are likely to remain in demand by owner-occupiers, including first-time buyers, over the next few years.
The expectation, in brief, is that London will continue to underperform the UK average, and points north are areas which will grow and perform.
If you would like to discuss mezzanine funding for a development, please contact us now.
"There is no doubt smaller developers need as much support as possible if they are to reduce the stranglehold of the large housebuilders."