If the press is to be believed, the Brexit shenanigans have triggered a sluggish property market. What's more, they say, there is little chance of it improving any time soon. But how true is this? Is there are a risk that over-cautious developers are going to miss out?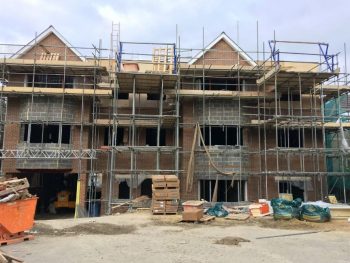 I was heartened to read this in The Spectator last month: "All in all, there is good reason to think that housebuilding is an industry which will be relatively lightly affected, even by a messy Brexit." (I should point out that The Spectator isn't my usual fare, but I like to cover the whole spectrum.)
How true is this?
A messy Brexit
We're certainly having a messy Brexit. I write this on the morning after the Brexit leave date has been extended until 31 October. No one, least of all the government, seems any clearer about how Brexit will pan out. Or, if it will happen at all.
The Spectator article is titled, Whatever happened to the Brexit property crash? Crash or no crash (and let's hope the article isn't tempting fate), there is still plenty of doom and gloom.
A report this week by the Royal Institution of Chartered Surveyors (RICS) has "found a subdued picture across the UK". It claims house prices are likely to fall for another six months in the UK, and in London and the south east for the whole of the year.
It would be foolish to argue that this represents good news. But sometimes it is useful to look beyond the headline figures.
Stable housing market
The housing market is currently stable. Both the Halifax and Nationwide housing indexes show slight gains over the past year (0.8% and 0.1% respectively). Transactions in Q4 of last year were up 0.8% and prices are generally holding up. Hamptons says nearly a fifth of homes in that quarter sold for above asking price, which is in line with previous years.
I say "generally" in the paragraph above as the exception is London. It is hard to get away from the feeling that much of the negativity about the market in the press is driven by what is happening in London and the prime market in particular.
Struggling London market
LonRes claims that prime London property fell 5.7% last year. And more than half of properties for sale were previously on the market at a higher price. But how relevant is this to most developers? The Financial Times reports that a US hedge fund owner recently paid £95m for a house near Buckingham Palace, a discount of £30m against the asking price. Does this mean anything?
Stamp duty rise to blame?
The fall in the London prime market can be traced back to long before Brexit. The real reason was George Osborne's stamp duty rises at the end of 2014. These were aimed at subduing spiralling prices at the top of the market. Osborne succeeded.
Of more relevance to developers than billionaire homes in the capital (or at least the developers we lend to) are what is happening elsewhere in the UK. Savills is forecasting house price growth across the UK of 1.5% this year (with London prices falling 2%). In the north west, the east of England and the Midlands, prices are expected to rise by 3% during the year.
Savills thinks the housing market cycle is now in its second stage, with London and the south being overtaken in performance by the north and the Midlands. Its projections are based on one key factor: interest rates. Their expectation is based on the Bank of England's belief that interest rates will rise gradually.
Interest rates helped by Brexit uncertainty
One positive benefit of the Brexit uncertainty is that interest rates have been kept lower than they might have done. Last year, remortgages were at their highest level for almost a decade.
In the Financial Times, Jonathan Harris, a director of Anderson Harris mortgage brokers, describes rates as "incredibly competitive" and says Brexit is not affecting mortgage lending. "Brexit isn't having an impact with the banks in terms of what they will lend or on what terms," he says.
At the moment, Brexit is casting a long shadow. The overriding sentiments are caution and negativity. Some people argue that this is illogical. Ross Clark says in The Spectator: "No one has satisfactorily explained why the housing market should suffer from Brexit … Why should people stop moving house just because we are no longer in the EU?"
The counter argument is that people don't like to make a large financial commitment if they are unsure how their livelihood is going to be affected by a cloudy future. The clouds are currently due to 'We don't know when Brexit happen'. The clouds may become 'We don't know what Brexit will look like when (or if) it does happen'.
Brexit won't last forever
Whichever way you look at it, like everything else, Brexit won't last forever. I'll stick my neck out and say that the once the deadlock is broken (and it has to break one way or another), we could be in for a bounce. And those developers who fail to anticipate it will miss out.
To discuss mezzanine finance for your development, please contact us now.