Any hint of positive news in the property market at the moment is inevitable followed by the phrase "despite Brexit". So it was this week with news that last month UK banks approved the highest number of mortgages since 2017. In this blog, I look at the state of the property and lending market (with passing reference to the dreaded B word).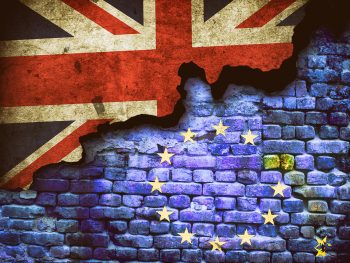 The Financial Times tempered its upbeat headline about the "surprise rise" in mortgage lending last month with a cautious sub-heading. "Rise hints at recovery in Britain's housing market despite Brexit woes," it said.
Data released by UK Finance shows that lenders approved 42,989 mortgages in April. This is the highest number since February 2017 and 11.5% up compared to a year earlier.
The question is, what does it say about the state of the property market?
Howard Archer, chief economic adviser to the EY Item Club believes the increase in lending may be due to "the avoidance of a disruptive Brexit at the end of March". I think this may be fanciful thinking. The idea that people decided to buy a property in April because of the Brexit delay seems far-fetched.
Brexit fatigue
Other reasons seem more likely. Chief among these is the fact that most people are heartily sick of Brexit and have decided that life will continue whatever happens. Plus, there are good signs for the market if you are willing to look beyond the Brexit headlines.
This is a sentiment I've heard in my recent discussions with developers and is borne out in a report in the FT last week. The FT stated that consumer confidence had risen in May and that "UK builders reported an even faster improvement in confidence than consumers".
Mr Archer conceded that other factors apart from a delay in Brexit may be at play. He said the rise in mortgages could be down to robust employment growth and increased consumer purchasing power.
In April, The Week reported that UK wages are finally growing faster than house price inflation "as the jobs market remains buoyant despite the Brexit gloom". (There's that phrase again.) The latest Rightmove Property Index shows that UK wage growth is at 3.5%, compared to house price growth of 2%.
Market negativity is London-centric
Needless to say, the better the wages to prices ratio the stronger the market. Manchester is a good example of this where The Week quotes house prices in the city as "growing at Brexit-defying rates".
London, as everyone knows, has seen a slowdown in activity and a drop in average house prices. In the country as a whole though, the picture is far from gloomy. Average UK house prices are 2.6% higher than they were in the first three months of 2018 and above expectations.
Bloomberg has pointed out that the negativity about the market is London-centric and that "almost every other major urban area in the country is still experiencing a rising market". "It's a national divide that's all too apparent to real estate agents in northern England who aren't too worried about the UK's departure from the European Union," it says.
In fact, the uncertainty surrounding Brexit is having a positive impact on mortgages rates. And, low rates are likely to continue if we leave with no deal. The issue then will be the availability of funds. Tarrant Parsons, an economist at the Royal Institute of Chartered Surveyors believes "interest rates would likely be cut in a no-deal scenario". But, he cautions, banks may be less willing to lend due to the uncertain economic outlook.
Shrinking LTVs and mezzanine finance
To some extent, this is already happening in development finance. Senior lenders are shrinking loan to value percentages down from 75 or 70 percent to as low as 60 or even 55 percent. This makes mezzanine funding more important than ever and requires developers to recalibrate how they fund their developments. The quicker they can adjust to this new norm the better and the more options they will have available.
Many are adjusting already and we have seen an uplift in enquiries from developers and referrals from senior lenders for mezzanine funding over the past few months … despite Brexit.
If you would like to discuss mezzanine finance for your development, please call us now.